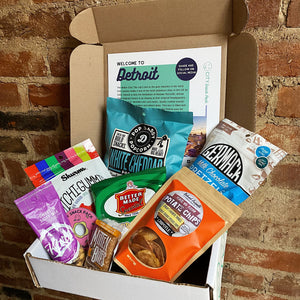 Why City snack pack?
Introducing City Snack Pack, the ultimate gift for corporate events and get-togethers! Get ready to embark on a flavor-filled journey across America with our curated snack box, brimming with local treats from iconic cities. From Chicago's classic popcorn mix to fresh fruit gummy bears from Los Angeles, let your taste buds roam free. Impress and entertain your colleagues with a fun and delicious experience that captures the vibrant spirit of American snacking.
City Snack Pack Review on YouTube!
---
Pick It
Pick which city you'd like your snacks from and how many boxes, then contact us directly for a quote! Don't see your city? Just ask!
Ship It
Once you confirm your order, we'll source the goodies, fulfill your snack boxes, and ship them out to your team
Snack It
Give the pleasure of indulgence with the joy of sharing, creating delicious moments and bringing smiles to the faces of recipients
"City Snack Pack is a great way to support small businesses, especially at a time like this - and a great way to explore the US through snacks!"
Stuart M.
Columbus, OH
"I live in Detroit and I hadn't even heard of some of the snacks in the Detroit box. I can't wait to keep discovering new local treasures every month!"
Ani L.
Detroit, MI
"My son and I love to snack. These locally sourced snacks truly fulfilled our munchies!"
Ronnie I.
Cincinnati, OH